Unique and personal guided walking tours through ancient World Heritage Daintree Rainforest exclusive to access on our tours only.
Our guides have lived within the Daintree Rainforest for many years and are deeply passionate about conserving and ethically sharing with you this irreplaceable treasure. There is no better way to engage with such elusive complexity and intricacy than through the guiding expertise of long-term human inhabitants.
Maintaining the natural integrity of the World Heritage landscape means that access is NOT universally available and may be unsuitable for some with
mobility limitations.  Wildlife sightings are also unpredictable, so participants must accept the risks of a genuine wilderness experience.
Differentiating genuine eco-tourism from mass tourism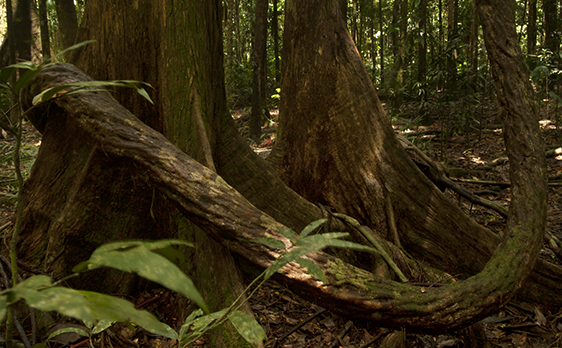 Access to natural landscapes of extraordinary sensitivity are often obstructed by the formality of protective regulations. Daintree Rainforest specialises in the provision of high-quality walking tours, under the expert interpretation of long-term inhabitant guides.  Either the two-hour Grand Fan Palm Gallery Tour, or the extended four-hour Greater Wilderness Experience, form the foundation of all Daintree Rainforest Tours, expanding upon these two core experiences by adding on nearby mangrove interpretive river cruises or even a luncheon in a local restaurant.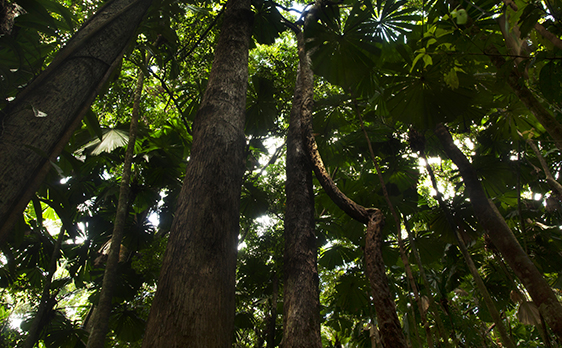 Daintree Rainforest contains the last fragment of the oldest rainforest in the world and represents the most richly preserved portion within the lowlands off the eastern flank of Thornton Peak.  Daintree Rainforest contains all the attributes that led Australia's World Heritage nomination to be considered by the World Heritage Committee as outstanding, as it met all four criteria for listing, as a Natural Heritage site.
Most importantly, Daintree Rainforest is a World Heritage property with human inhabitants, which is a vitally important addition to the conservation values of the land.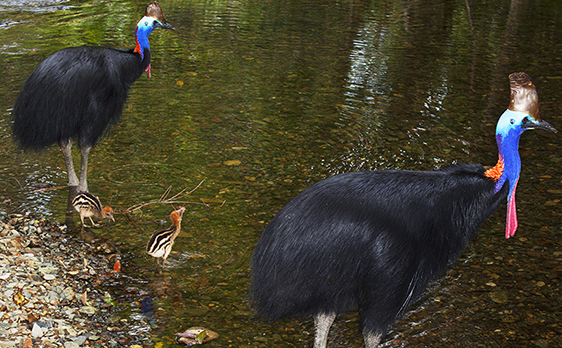 As long-term human inhabitant educators, the directors confirm that there is no better classroom or laboratory, for the inspired education of any student body, than the rich interior of the oldest surviving rainforest in the world.  Neither is there any better educator, than the long=term inhabitant guides.Daintree Rainforest. Upholds the highest standards of World Heritage management, so that all parties are ensured the same quality of excellence in management and presentation.
An early customer once remarked, "It's as though I have entered the world's greatest library, having just discovered the wonders of reading!"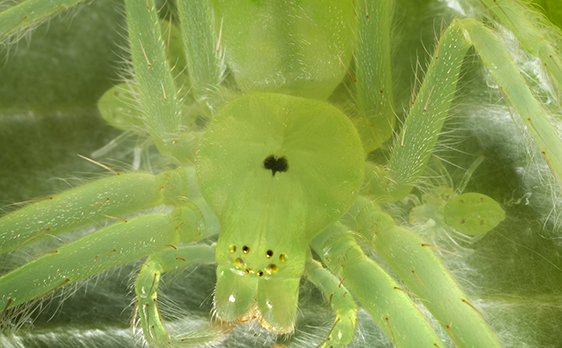 An area possessing some of the most biologically diverse rainforest on the planet has extraordinary potential to reveal valuable insights into the past, provide foods and medicines and yield secrets that will ensure preservation and continuity of life into the future. Daintree Rainforest researches into the myriad interactions that bind together a vibrant and secure community of life.
A living laboratory provides a research landscape of distinction, with the centrepiece of the oldest rainforest in the world and human custodians of rainforest knowledge.
Rainforest tours of excellence
Immerse yourself in either a 2-hour Grand Fan Palm gallery Tour OR 4-hour Greater Wilderness Experience
Rainforest educational services of distinction
Providing university and secondary institutions of academic excellence with unrivalled ecological experiences
Excellence in conservation management
Fulfilling World Heritage management obligations without subsidy, without development entitlements and without competitive neutrality