PROFILE – DAINTREE WORLD HERITAGE RAINFOREST
Profile – Daintree Rainforest provides genuine ecotourism experiences, under expert interpretation of long-term inhabitant guides, with exclusive World Heritage access to the centrepiece of the oldest rainforest in the world.
The profile of Daintree Rainforest enjoys superior location about the centrepiece of the world's oldest rainforest, 20-km north of the Daintree River along the Cape Tribulation Road.  This outstanding area of old-growth rainforest profiles all the refugial attributes of rarity, primitiveness and endemism that met all four of UNESCO's natural heritage criteria for World Heritage-listing.  Relieved of the broad-scale impacts of commercial logging, which the majority portion of Crown estate carries, this privately-protected property retains exceptional integrity.  Three generations of human inhabitants have accrued a tremendous breadth and depth of rainforest knowledge for management and presentation advantages.  The unprecedented decision to compulsorily-inscribe human inhabitants into this World Heritage role is an experiment that has achieved twenty-eight-years of self-sustaining, ecotourism-funded success.
Our quest has taken us outside the boundaries of traditional learning, beyond the realms of convention and exposed us to an unlimited resource, the world's oldest rainforest in its central and most biologically diverse expression.  
Genuine, old-growth rainforest

Enriched with human inhabitants

Practitioners of genuine ecotourism

Respectful of indigenous culture

Supported by genuine ecotourism
DIRECTORS
Our directors are long-term inhabitants of the World Heritage rainforest they are legally obligated to manage. Having to live directly with the consequences of their management decisions, gives the rainforest the benefits of human sensitivity.
Prue Hewett
Director
Angie Hewett
Director
Neil Hewett
Director
Our commitment to excellence is underpinned by our part and place in the rainforest.  The better we perform, as rainforest stewards, the greater our rewards.
Three generations of Daintree World Heritage human inhabitants, committed to a successful, sustainable occupancy Is our Core Business. We also provide the multitude of other rainforest inhabitants with a human voice.
From before the first of the birds announce the day's arrival, we humans are up and about, collecting information and increasing awareness.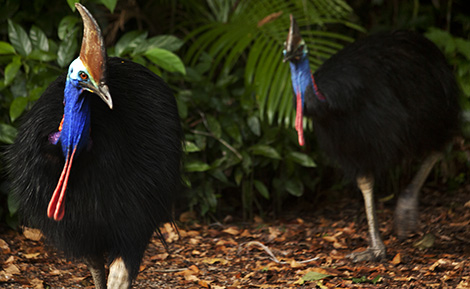 We conduct exclusive small-group interpreted rainforest walking tours through the middle of the oldest rainforest in the world. As a matter of honour, we conduct our tours to have the greatest affect on traveller experience.
Not a day goes by without another insight or revelation adding to the cumulative total of human knowledge and presentation capability.
That Australia's biggest environmental mistake was extirpating human inhabitants from nature. We honour human inhabitancy and the part ethical travellers play in supporting a better environmental future.
Without doubt, the correct mechanism for optimised ecosystem management, is a human population in situ.